Predicting the Films that will Top and Flop in 2015
I'm sure by now you've had enough of talking about 2014, or even reading the 'best films of 2014' articles. But fear not, now is the time to look ahead. There are so many films to look forward to in 2015, and there are also many you should avoid. It's an inevitable fact that if you go to the cinema you always run the risk of feeling short changed. However, by reading my analysis of the potential top five films that might top and flop in 2015, it might make you feel a little more assured as to which films are worth seeing, or not.
People measure success and failure in different ways, but this chart will be measured solely on critical and artistic success (yes, I know critics aren't always right), not financial takings, because sometimes that can be misleading. Just think of last year's clever sci-fi flick, Edge of Tomorrow, which was budgeted at 200 million dollars and only took in 74 million dollars in the U.S, so you could class that as a failure, but the film was no doubt a success in terms of popularity among critics and audiences.
Without further ado, here are my 5 Tops:
1. Silence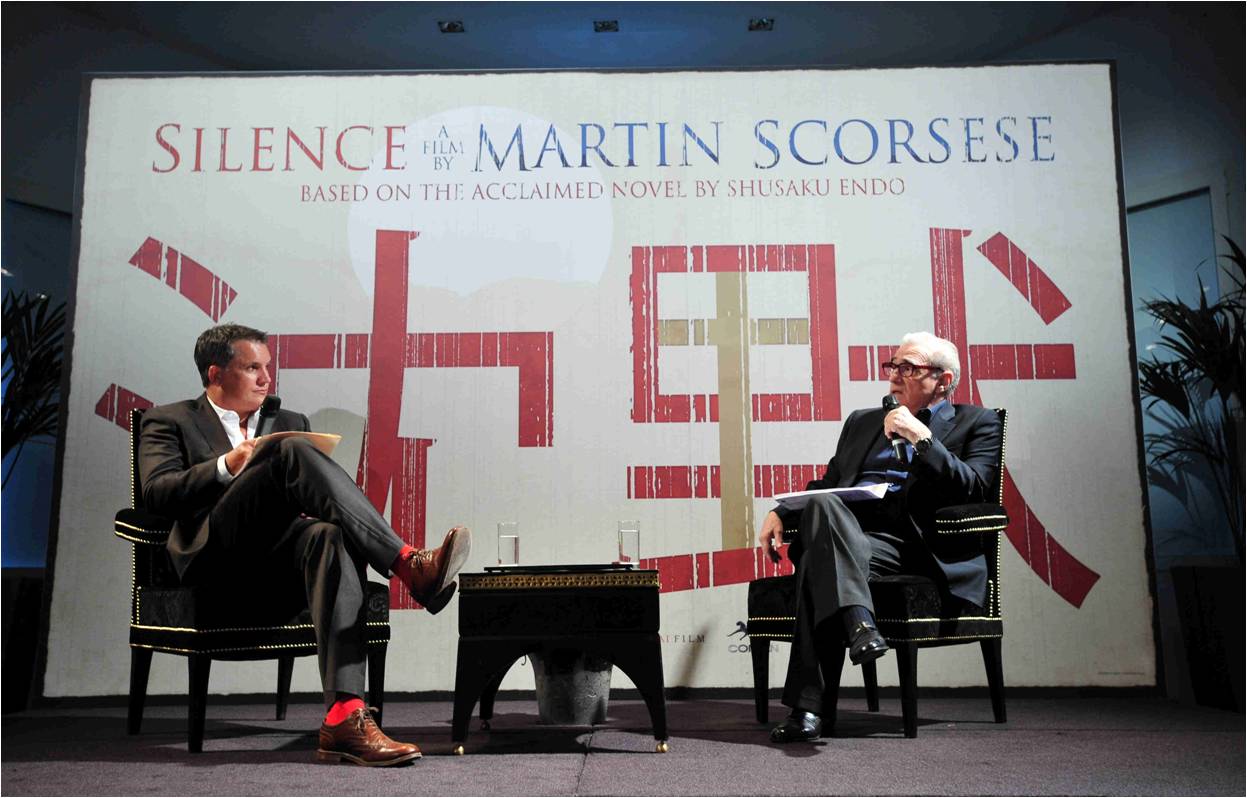 Director: Martin Scorsese
Starring: Liam Neeson, Andrew Garfield, Adam Driver, and Tadanobu Asano.
Based on the 1966 novel of the same name by author Shūsaku Endō, Silence is set in the seventeenth century, where two Jesuit priests face violence and persecution when they travel to Japan to locate their mentor and to spread the gospel of Christianity. Things aren't easy for the priests, because most of the Christian population has been forced to move underground since, if they dare to come out, they run the risk of being captured by security officials and tortured using the anazuri method, which is by being hung upside down over a pit and slowly bled.
The main characters will face a big test as they start to question if God is truly with them or not.
We know this has Oscar bait written all over it, especially as it was announced back in July last year that Silence was going to release at the end of 2015, meaning that the film is just in time for the 2015 awards season, but that is not the only indication that Silence should be greatly anticipated.
Scorsese's last biblical outing, The Last Temptation of Christ, was a powerful, deep, and passionate film from the veteran director, which proved he had a calm hand when it came to giving his take on a high risk biblical subject. Scorsese did that by using one very important trope when tackling something potentially controversial.
Scorsese gave an unbiased examination of Christ's story, which allowed the viewers to draw their own views and interpretation on the film; so I'm sure Scorsese will look to do this again with Silence, meaning it is well and truly in safe hands. Still, it is Scorsese's passion, just like The Temptation of Christ, that gives Silence that potential winning edge.
The veteran filmmaker spoke late last year to Total Film about how "The subject matter is very close to my heart. I've been working on it since I first read the book in 1989 … It goes back to growing up in New York, living in an area that was pretty tough, and also the church at the same time. It's similar to Mean Streets, in a way. It deals with spiritual matters in a concrete, physical world; a world where invariably the worst of human nature is revealed."
He then went on to say that Silence is going to be a suspenseful film with elements of a thriller and will be a smaller story than other, more 'epic' biblical films such as the recent Exodus: Gods and Kings, and will mainly concentrate on these priests as their journey turns into an intense ride of religious beliefs.
Gangs of New York writer, Jay Cocks, penned the adaptation; therefore if this can come off as well as that film did, this could be Scorseses' most passionate and intense outing yet.
2. Crimson Peak
Director: Guillermo del Toro
Starring: Tom Hiddleston, Jessica Chastain, Charlie Hunman, and Mia Wasikowska.
Del Toro makes his return to horror in the form of this creepy haunted house story set in 19th century England, which follows an aspiring author, who, in the aftermath of a family tragedy is torn between love for her childhood friend and the temptation of a mysterious outsider. Trying to escape the ghosts of her past, she is swept away to a house that breathes, bleeds and 'remembers.'
Del Toro has been wanting to make this one for quite some time, and has described it as an adult horror film that is very character-driven in that it is not just about a creepy house, but about the secrets which these characters hide.
There isn't too much CGI in this one either, as del Toro's passion has been taken to a whole new level of detail. The old nineteenth century house which the film is set in, has been built from the ground up. There are three storeys of immense detail, with numerous illustrations hidden in the woodwork and wallpaper. And already, it is starting to rekindle old horror classics.
Crimson Peak is going to be something more in line with the vast, isolating, and soul torturing Overlook Hotel that we saw in The Shining; however, the plot, in terms of horror intensity, will be the closest to del Toro's Spanish horror films than we've ever seen before.
Del Toro's Spanish films were very high on oppressive atmosphere and also had very dark Gothic undertones, meaning when he started making English language pictures, he had to tone it down a few notches. His horror films in the States had to be for the young adult audiences because, otherwise, the film might not take much at the box office as he was not a well renowned filmmaker over in the States. Times have changed though, after the success of both Hellboy films, Pacific Rim, and the universally praised Pan's Labyrinth it is time for his ultimate passion project to hit the big screen. According to del Toro, Crimson Peak will be "shockingly different" and also aimed at adult audiences with a rare R-rating, so expect all-out crazy del Toro for this one.
Hopefully Crimson Peak will join the latest smart-horror movie resurgence that we have seen of late with the likes of It Follows and The Babadook.
3. The Hateful Eight
Director: Quentin Tarantino
Starring: Channing Tatum, Samuel L. Jackson, Kurt Russell, Jenifer Jason Leigh, Zoe Bell, Bruce Dern, Michael Madson, Tim Roth, and Walton Goggins.
Now rumoured to be his last film, Tarantino is set to take us on another/final wild ride which throws us into post-Civil War Wyoming, where bounty hunters are seeking shelter during a blizzard. The bounty hunters get more than they bargained for when they become involved in a plot of betrayal and deception that unfolds inside of a stagecoach stopover as bad timing, and horrible coincidences follow.
Already it is starting to sound reminiscent of Tarantino's feature debut, Reservoir Dogs.
If Tarantino was going to go out with a film like this, it would be like his film career has travelled full circle. He started off with Reservoir Dogs, which was a claustrophobic black comedy crime flick, with a strong focus on a small amount of characters that were ready to backstab each other at any given point. The Hateful Eight sounds like a similar variant of that, with a slightly larger cast and a different backstory.
Whatever type of plot Tarantino gives us, it is always worth seeing. Nevertheless, The Hateful Eight doesn't just stand out because of its setting and genre, it is the fact that we already have a fair idea if it is going to be one of his best works or not. If you remember back last year when his script for the film was leaked by a supposed agent of one of the film's stars, the project was hastily shelved by Tarantino and was ready to collect dust on his 'never-to-be-made projects.' Tarantino then cooled down and decided that if he wasn't going to make the film he would organize a script reading in L.A to test the waters of the project, and as luck would have it he was overwhelmed by the script reading's reaction; after all that fuss, it turned out The Hateful Eight isn't going to collect that much dust after all.
Tarantino is now ready to shoot his upcoming Western, and the news is probably even more exciting for those who attended the script reading that thought it was one of Tarantino's most inventive films yet, all echoing that it is a clever tale of bad timing and unfortunate coincidences that ends in a classic Tarantino bloodbath.
We've got to bear in mind that the script was only semi complete at the live reading as various tweaks to do with the pacing needed to be made, according to Tarantino.
If Tarantino does go out here, we will be getting the most Tarantino film to date, because the script was reportedly filled with long monologues, witty insults, and backstabbing that prove only Tarantino could have made this morally stricken Western.
If you want to get in the mood for The Hateful Eight, you can check out the soundtrack here. It was leaked online last year along with the script (but this is still subject to change by Tarantino.)
4. The Martian
Director: Ridley Scott
Starring: Matt Damon, Jessica Chastain, Kate Mara, Jeff Daniels, Michael Pena, Chiwetel Ejiofor, Sean Bean, Kristen Wiig, and Sebastian Stan.
We are well and truly back in Ridley Scott 'Alien' territory for this one.  The Martian, is based on the novel of the same name, written by Andy Weir. The plot picks up with NASA astronaut Mark Watney being stranded on Mars when his crew are forced to evacuate their landing site due to a huge dust storm. Watney doesn't get out in time and is forced to rely on his knowledge of science and sheer determination to survive. His only hope is that someone will rescue him, but that might be tricky because the rest of his crew believe him to be dead.
Considering Ridley Scott made his name for claustrophobic space storytelling, then a return to this genre should be a nail biting ride, unless he turns it into a CGI fest with flimsy as rice paper characters like he did with Exodus: Gods and Kings, then we could be in trouble, but I have a feeling he won't.
Yes, this perhaps is the biggest risk on my list, given Scott's recent form, but a director of his talent can't keep serving up turkeys. A cast like this and a story as thrilling and high on techno science invention like the novel was, surely can't fail?
A story of survival always bodes well on screen, and while this may sound like Castaway come sci-fi, The Martian is more than that or, at least, the novel was. The novel shifted between first person, which allowed the reader to see the main characters 'Mars Journal' and third person, which followed the other crew members back on Earth.
When you have two separate perspectives in a survival film it gives the story added depth and extra room for tension. For example, you may see something go wrong on NASA's end, but back on Mars, the main character doesn't know what went wrong and still thinks he is going to be saved. It's a clever way of keeping the pace smooth in a plot, as the different perspectives will never drag because there is always something happening in either perspective. e.g. the hustle and bustle of NASA's control room or the desolate and lonely space station on Mars, which was described with immense detail in the novel.
The novel was praised highly for its authentic written scenes with NASA, as it produced nostalgic memories of Apollo 13's control room drama. The Martian is also on the money when it comes to the actual technology used on the red planet.
The novel is very high on scientific facts: many readers claimed the techno descriptions went way over their head so a movie adaption is a good way to fix that. As Scott can reveal what all these complicated gadgets are visually.
But it's not all science gizmos. The main character's sense of humour gave The Martian that perfect balance between clammy palms tension and comical relief that stories as intense as this need.
There are many elements here, and a lot for Ridley Scott to work with, but it's not like he hasn't got enough on his plate already. He has taken on plenty of sci-fi projects of late, with the likes of Prometheus 2 and the Blade Runner sequel both in pre-production. Both of those films are also likely to be CGI heavy, which got me thinking that The Martian might be Ridley's return to smaller, cagier storytelling that is high on tension and less on scope and set pieces which Blade Runner and Prometheus might be.
The Martian could shake off the bad habit picked up from the first Prometheus, like forcefully advancing the plot by making some characters make 'out-of-character' decisions. Scott's feature debut, Alien, created characters that were believable and relatable, because even though not many of us can relate to working in space, the characters were written to be more like hard grafting engineers who talked about everyday problems and the family they have back home, which related to anybody who has to work away from home. Prometheus did not do this, leaving us watching caricatures, not characters that we care enough about that we fear for their lives.
Let's hope The Martian gets back to some Ridley character building. Plus, you never know, this might be the movie where Sean Bean makes it to the third act without having his head chopped off.
5. High Rise
Director: Ben Wheatley
Starring: Tom Hiddleston, Jeremy Irons, Sienna Miller, Luke Evans, Elisabeth Moss, James Purefoy, and Keeley Hawes.
From author J. G. Ballard, who's famous for penning some of the seediest, grimy, and societal heavy novels, comes a film based on one of his seedy, grim, and societal novels which is none other than his most seedy, grimiest societal heavy novels (apologies for trying to be clever here). High Rise takes place inside an ultra modern apartment block which contains such luxuries as a swimming pool, speedy elevators, supermarkets and a school. Sounds perfect? Well it was, until the residents realize they're so cut off from the outside world that they can create their own set of rules and start a new world inside the high rise.
What proceeds is an orgy of violence as the residents fight for control of the different parts of the apartment block. They divide themselves into the three social classes, with the upper class at the top of the building, and the lower class at the bottom.
The film kind of has a mini apocalyptic feel to it with shades of the apartment block action bonanza The Raid.
Nevertheless, High Rise will be unlike anything you have ever seen before on screen. It explores people's dark urges and inner desires that stem from advances in technology which have warped the human psyche. We will see all these characters in their true light, no restrictions, no police, and no morals. Still, this could be a pretty depressing film if it were given to the wrong director, but we feel High Rise is safe with British born Ben Wheatley.
Wheatley is still waiting for that real breakout film even though his body of work is already terrific, with films under his belt such as Down Terrace, Kill List, Sightseers, and A Field in England. But this is his real passion project, he knows it has a larger scope than anything he has done before but he said, talking to The Guardian last year that he "was born in 1972, three years before the book was written, so one of the attractions of the film was that I kind of imagine myself as one of the kids running around on the estate and my parents as the adults. The scope of the film is exciting. It will be challenging, like (David Cronenberg's) Crash, but it's not as dark as Kill List. The book is pretty out there, though."
Another reason that this could be a serious dark horse success this year is that the novel already has a pretty strong fan base, and that debauchery tales seem to be welcomed with open arms when executed right, with the likes of The Wolf of Wall Street and Fear and Loathing in Las Vegas being examples of where characters feel there is nothing to lose, they strip back and lead paths of destruction, which always is 'interesting' viewing.
Now we have finished with the films to watch out for in 2015, here are the films to cast your head away again.
Top Five Potential Flops:
1. Terminator: Genysis
Director: Alan Taylor
Starring: Emilia Clarke, Jai Courtney, J. K. Simmons, Matt Smith, Byung Hun Lee, Jason Clarke, and Arnold Schwarzenegger.
Here we go again: After finding himself in a new time-line, Kyle Reese teams up with John Connor's mother Sarah and an ageing terminator to try and stop the one thing that the future fears, "Judgement Day"
There is nothing wrong with rebooting a franchise. The Dark Knight trilogy, Star Trek and Planet of the Apes (2011's, not the Tim Burton reboot) proved it can work. Nevertheless when it comes to Terminator, it seems to have hit a bumpy road. The last time Terminator tried to begin a new series we were offered the train wreck that was Terminator Salvation. It performed so poorly and received such negative press that the trilogy for the new generation was cancelled; the cancellation led us to believe it was the end of the road for Terminator. However, we were wrong, in 2011 Paramount Pictures announced that a new trilogy was born, and will be entirely separate from Terminator Salvation, but will rearrange the events that took place in the James Cameron originals.
You can't blame Paramount for wanting to give Terminator a second chance, but it just feels like the scars are still there from Salvation. Instead of delving into another part of the Terminator world, Genisys is just messing with the original timeline, which might be ok with new fans who haven't seen the old ones, but for fans of the originals it will feel more like a glorified piece of fan fiction that is going to have to do something seriously special to even come close to James Cameron's originals.
The trailer for the film just re-affirmed my suspicions that meddling with the original plotline was suicidal. The footage in the trailer just looked like everything we have seen before from the previous installments, with the similar looking science labs, T-1000's liquid metal body, and the car chases between the human characters and a Terminator. With these similar looking scenes, it reminded me of the originals rather than building excitement for the new one.
The trailer even managed to fit in some nostalgic but cheesy dialogue, like Schwarzenegger saying 'I'll be back' and diving head first into a helicopter. The catchphrase just seems to be bordering on self-parody in that segment; and apparently in Genisys, Schwarzenegger is a Terminator programmed to protect and not harm, the reason being that the filmmakers, according to one of the stars of the film, J. K. Simmons, is going to for a more 'fun and funny' approach than the past films. It's not even R-rated, but you come to expect that now with Hollywood losing the ability to take risks.
It's a little unfair to be judging a film from its trailer, but if you consider that the writer for this film is Patrick Lussier, who has been responsible for films such as Drive Angry, and the Dracula 2000 franchise, which weren't exactly the most inventive of films, you can understand why this could flop.
Terminator Genisys is going to go one of two ways: either it is a surprising success, or a complete franchise killer. Let's pray it's the former, but I fear it will be the latter.
2. San Andreas
Director: Brad Peyton
Starring: Dwayne Johnson, Alexandra Daddario, Ioan Gruffudd, and Paul Giamatti.
San Andreas takes place in the aftermath of a massive earthquake in California. A rescue-chopper pilot makes a dangerous journey across the state in order to rescue his estranged daughter.
We love a disaster movie, the sight of fictional characters' lives turning upside down in an instant as an apocalyptic event occurs, followed by people fleeing left, right, and centre, throwing all morals out the window in the process – it is never a dull watch. Whatever happens to San Andreas, it'll likely bring in crowds for that reason alone, even if it isn't doing anything new for the genre.
Yet the talent of Lost's Carlton Cuse, whose written the script and the resurgence of Dwayne Johnson's acting career makes San Andreas look slightly worth your 8 dollars, however, I just can't shake the notion that this one is going to be a disaster both on and off screen.
It looks to be a gigantic CGI fest of crumbling buildings, shaky camera movements, scared news anchors saying "it's not safe here, go!" close encounters with pieces of rubble falling all around our fleeing characters, and some melodramatic crying, all in the hope that people would like to see that kind of thing for the umpteenth time.
San Andreas is probably hoping that its name alone can park bums on seats in case some mistaken people think it is a Grand Theft Auto movie, but in reality it is a mash up of movies like 2012, Pompeii, and The Day After Tomorrow. It will probably fall in line with all those films in terms of spectacle, in that they all share the common trait of not making characters we actually care about enough to want to see them escape. These disaster films like making loud noise, but the quieter moments is where they tend to fall apart, because all character development and logic seem to fall down the cracks in the earthquake will create. The characters always seem to make choices that will cause the most destruction and danger for themselves and others just because the plot wants to throw them into the next set piece, meaning characters become illogical and annoying, but the writers hope we won't notice because 'there, look . . . buildings coming down.'  San Andreas will also rely on looking good in 3-D to make it sure it has a good chance for another outing.
There will probably be some kind of sequel bait at the end, these types of films love doing that, and in all likelihood it will probably get one, simply because people will pay to see Dwayne Johnson dodging rock shaped bean bags in front of green screens.
3. Focus
Directors: Glen Ficarra, and John Requa.
Starring: Margot Robbie, Will Smith, Rodrigo Santoro, and Robert Taylor.
With a plot as unoriginal as this one, you can't help but feel this is a chemistry test for Harley Quinn and Deadshot, as Smith's character is a veteran grafter who recruits a young woman, played by Robbie, so she can pull of daring cons against vicious criminals; yet things get a little complicated when they become romantically involved.
At least Ficarra and Requa are trying to inject both drama and comedy into a very tired formula. I still don't think that comedy will be enough to save this February released con-caper. Even in the trailer, your classic con-caper clichés like Smith's character informing us that "I've been in the game a long time." Or the old 'will they, won't they' relationship that will probably go on throughout the whole movie until they either end up together or one of them isn't who they say they are. It even has the flashy cars, the expensive suits and dresses. You can almost feel like this film, when handed to theaters to view, the box had been doused in Jean Paul Gaultier. Oh, yeah, and wads of cash in sports bags, preferably being thrown onto a table because it looks 'kinda cool.'
There will no doubt be a lot of twists and turns, mainly brought on by some mustache twirling criminals, even though you've seen these twists and turns so many times it will be like you have written the screenplay yourself. In the end, the plot will be nothing more than a light hearted caper that will probably get lost in the genre's ether. It's also a surprise Jaden Smith wasn't cast.
4. Point Break
Director: Ericson Core
Starring: Luke Bracey, Teresa Palmer, Ray Winstone, and Edgar Ramirez.
In case you didn't get to see the Kathryn Bigelow original, the plot for the remake is identical in that it still follows a young undercover FBI agent who infiltrates a gang of thieves who share a common interest in extreme sports and robbing banks in former Presidents of the United States masks.
The original turned into a cult classic due to its skydiving and bank robbery scenes that are still etched in the memory of action cinema, and now Hollywood is kind enough to go all out and make the film again for those who haven't seen the original.
The only logical reason that Point Break is coming back is for money purposes. It seems that someone at Alcon Entertainment got out his word document full of potential film reboots (they probably don't use Word, but hey ho), closed their eyes, and saw which film their finger landed on when they opened their eyes again.
We saw how bad remakes can go in recent times with the likes of Robocop, Get Carter, Psycho, The Thing, Total Recall (which has the same writer as this Point Break remake!) the list just gets more and more absurd as it goes on. It's not that all reboots are bad, just look at Rise of the Planet of the Apes, The Dark Knight trilogy, Star Trek, they all have found new lice of life because they used the franchises' name but spun it around and the filmmakers gave their own take on the universe and explored different areas of that world. That is exactly what that list of films did not attempt. They just kept the same plot, removed what gave those films an edge when they were first released and gave birth to a watered down version that no one asked for.
Gerard Butler, the man who loves surfing and playing Bruce Willis 2.0 in action movies, has even dropped out, and he was in Gamer and Olympus Has Fallen, #prayforPointBreak.
A Point Break remake has never been asked for, and I'm afraid this could be the biggest turkey on this list, if it wasn't for an even more pointless sequel to the most pointless film franchise ever…
5. Insidious: Chapter 3
Director: Leigh Whannell
Starring: Dermot Mulroney, Lin Shaye, Leigh Whannell, and Stefanie Scott.
That's right, no Patrick Wilson or Rose Bryne for this one, as they want to have long and successful careers. So instead we have been served up a prequel to the Lamberts in which we follow a gifted psychic, Elise Rainier, who reluctantly agrees to use her ability to contact the dead in order to help a teenage girl who has been targeted by a dangerous supernatural entity.
This plotline is becoming too familiar now, we know Insidious: Chapter 3 is pretty irrelevant and will probably be forgotten in a hurry, like Annabelle, The Pyramid, and so on. However, the film does represent the change in what horror actually means in films of this genre now. It prompts not only a horror movie rant from me (I apologize in advance) but a question: Are horror films, actually horror anymore?
It seems to have changed pretty drastically. After watching horror films like The Shining, Invasion of the Body Snatchers, Alien, Evil Dead, Psycho, An American Werewolf in London, The Fly, Mulholland Drive and so on. All these horror films were so different in their genres and ways of telling a story, but they shared a common trait:  they gave you the feeling of unease, the feeling of not wanting to go upstairs in the dark, afraid of what might be lurking in the shadows. Your eyes were glued to the screen as the subtle hints of the desolate hotel in The Shining sent Jack Torrance spiraling into madness, making you feel like you were to, or you were marveling with wonder at the shady and creepy characters of Mulholland Drive, and the fact that the less you saw, the more you feared the unknown, a trick Alien used to elevate the tension. It was clever and subtle horror that made these films stick in the memory, and I thought this is what horror was supposed to be, but clearly times have changed.
Horror now is no longer horror, it should be called, 'jump scare'. Silent… silent… silent…. BANG, and the whole audience screams. However, are those screams out of fear or just because someone made them jump?
It's a cheap and lazy trick from modern filmmakers as they are no longer concerned about the power of suggestion, but the power of a face popping up on screen when you're not expecting it. The Insidious movies are infamous for this, you know in a scene with one of the characters, they enter a creepy looking room, look around for a while, find a few creepy looking books that a creepy little kid has drawn in and then depending on which act of the film we are in, you will either get one of the other characters making the audience jump as a red herring, or a pale ancient looking grandma popping in and out of frame, preferably behind the character's back.
Another problem that modern horror and specifically Insidious uses is the creepy kid. Why, in almost every horror nowadays does a kid have to be the one who draws either dead people being hung by a noose, or drawing the dead people who only they can see on the walls or in a book? Just because they are a kid and the least expected to be the scary one, does not mean it's still original to use it. Insidious loves it, it's like the hand held footage franchise Paranormal Activity. They both get films every other year or so, they never do very well with audiences or critics, but people still enter the theater to see them.
At least some modern horror films are making a resurgence like The Babadook, It Follows, and Enemy. They are all trying to remind us also that these classic horror films were so much about character first, horror second that it made us care about the characters when seeing them in potential danger it heightened the horror even further because you feared for the characters' lives. Alien gave us common people, who were like the mine workers of space; they talked about everyday things, like we would if we were space miners. The Shining was about a man's psyche, his boredom and the feeling of being trapped. Psycho gave us Lila Crane, just an ordinary woman who steals cash from her employer so she can be with her boyfriend. But her crime came back to haunt her. Audiences loved watching the unhinged Norman Bates, whose childhood scars turned him into a raging psychopath, even as you were never quite sure how mad he was until the end. For all these varied and flawed characters, they were relatable and had depth to them, but it is a different story today.
Now characters are explored very little in modern films because most of the horror comes from third parties such as supernatural occurrences, or the undead. It's just a shame not more filmmakers, or Hollywood are willing to take risks on character driven horror.
My rant's over now.
So there you have it guys, my Top Five Tops and Flops of 2015. Be sure to let me know below if you agree with any of these or if you would've had different films for these lists.
---
---
[fbcomments]